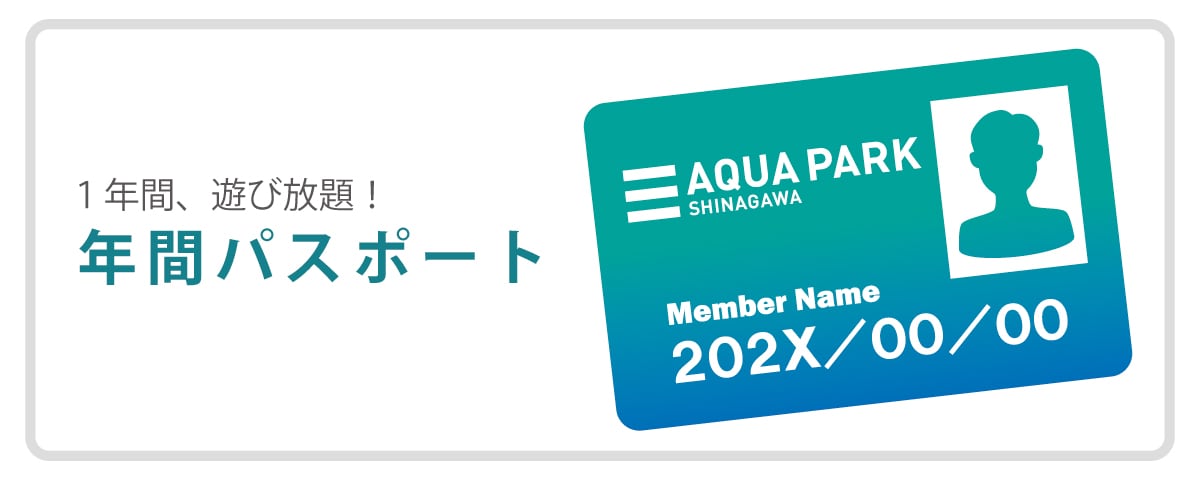 A passport that allows you to enter as many times as you like for the normal 1.9 times entrance fee for one year from the date of issue!
You can purchase it anytime of the year.
特典のご案内

Maxell Aqua Park Shinagawa
Coral cafe bar
100 yen discount on drinks
The stadium shop
100 yen discount on drinks
IN THE BLUE(お土産ショップ)
5% off (excluding some)
アトラクション※2
各種100円引き
※特典をご利用の際は、チケットセンターにて乗車券をお買い求めください。
※1
2023年4月1日時点の特典内容です。特典内容は、施設や営業状況等の都合により変更となる場合がございます。
※2
Each attraction has a certain usage limit for everyone to ride safely, and if the staff judges it to be dangerous, we may refuse to ride.
プリンスホテル(高輪・品川エリア)

Each restaurant in the hotel
10%OFF
(一部対象外・ご利用条件がございます。※1)
T-Joy PRINCE Shinagawa
一般(18才~59才) 200円OFF(※2)
Bowling center
2ゲーム以上利用で貸靴200円OFF
※1
対象外店舗・ご利用条件
および売店・個室・宴会利用を除く。
ご本人を含む、10名さままで適用となります。
※2
IMAX・3D上映およびサービスデー・各種割引料金との併用を除く。
横浜・八景島シーパラダイス

Adult / High school student
5,600円→4,500円
Elementary and junior high school students
4,000円→3,200円
Infant
(4 years old or older)
2,300円→1,800円
Senior
(Over 65 years old)
4,000円→3,200円
Adult / High school student
3,300円→2,640円
Elementary and junior high school students
2,000円→1,600円
Infant
(4 years old or older)
1,000円→800円
Senior
(Over 65 years old)
2,800円→2,240円
Adult / High school student
3,200円→2,600円
Elementary and junior high school students
2,750円→2,200円
Infant
(4 years old or older)
1,650円→ 1,300円
Senior
(Over 65 years old)
2,750円→2,200円
仙台うみの杜水族館

grown up
2,400 yen → 1,920 yen
Middle and high school students
¥1,700→¥1,360
Elementary school
1,200 yen → 960 yen
Infant
(4 years old or older)
700 yen → 560 yen
Senior
(Over 65 years old)
1,800 yen → 1,440 yen
上越市立水族博物館 うみがたり

grown up
1,800 yen → 1,440 yen
High school student
1,100円→880円
Elementary and junior high school students
900円→720円
Infant
(4 years old or older)
500円→ 400円
Senior
(Over 65 years old)
1,500円→1,200円
※
ご利用の際は、各施設にてパスポートをご提示ください。