Pre-sale admission ticket web sales information
事前決済でらくらく入場!
After registering customer information, you can purchase with the system "Webket" that can be settled with a credit card.
You can go straight to the "Admission Gate" without lining up at the ticket center.
※
ご入場の1時間前までにご購入手続きをお済ませください。
※
Purchases can be made on PCs and smartphones, but some may not be available.
Web販売のご案内

[ Sales period ]
Until Saturday, October 31, 2020 6:00 P.M.
[ usage period ]
From September 23, 2020 (Wednesday) to October 31, 2020 (Saturday) 7:00 P.M.
Price per person
Advance ticket
Adult
(High school students and above)
2,300 yen
Elementary and junior high school students
1,200 yen
Infant
(4 years old or older)
700 yen
※
ご購入の1時間後から、有効期限日までの営業時間内にご入場いただけます。
〈アトラクション・各種有料プログラムなどをご利用の場合は、別途料金が必要となります。〉
※
お支払い方法は、クレジットカード決済のみとなります。
(VISA / MASTER / JCBおよび、以上の提携カードがご利用いただけます。)
※
Cancellations, refunds, and registrant changes are not possible after purchase.
※
混雑時にはご入場までお待ちいただく場合がございます。あらかじめご了承ください。
Advance ticket purchase procedure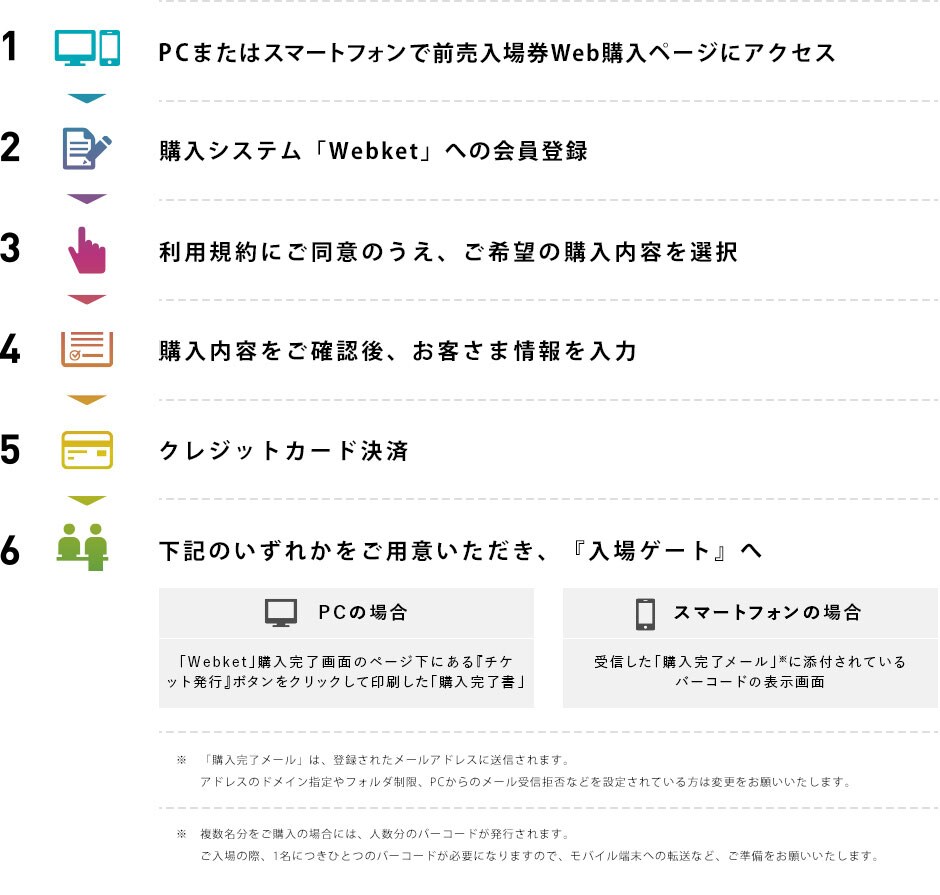 よくある質問

クレジットカード以外での決済方法はありますか?
決済方法はクレジットカードのみとなります。
エラーが発生した場合はどのようにしたら良いですか?
販売サイト管理会社へお問合せください。
株式会社グッドフェローズ TEL:0422-27-6238(9:00A.M.~9:00P.M.)
一度に何枚買うことができますか?
5枚までお買い求めいただけます。
About personal information
The registered personal information will not be used for any purpose other than to provide information about "Maxell Aqua Park Shinagawa" and other group companies.